News
On these pages you can find the latest news about booming such as: New products, meetings en more like this

---
<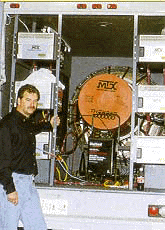 This is a special build woofer of 60 inches(=1,5 meter).
It has a power of 30000watts, but they already blew him up! it is made in association with MTX.
Don't go to your local store, it is not for sale there is just one of it.
---
25-08-1998:This site will be soon updated with a guesbook and some new cars.